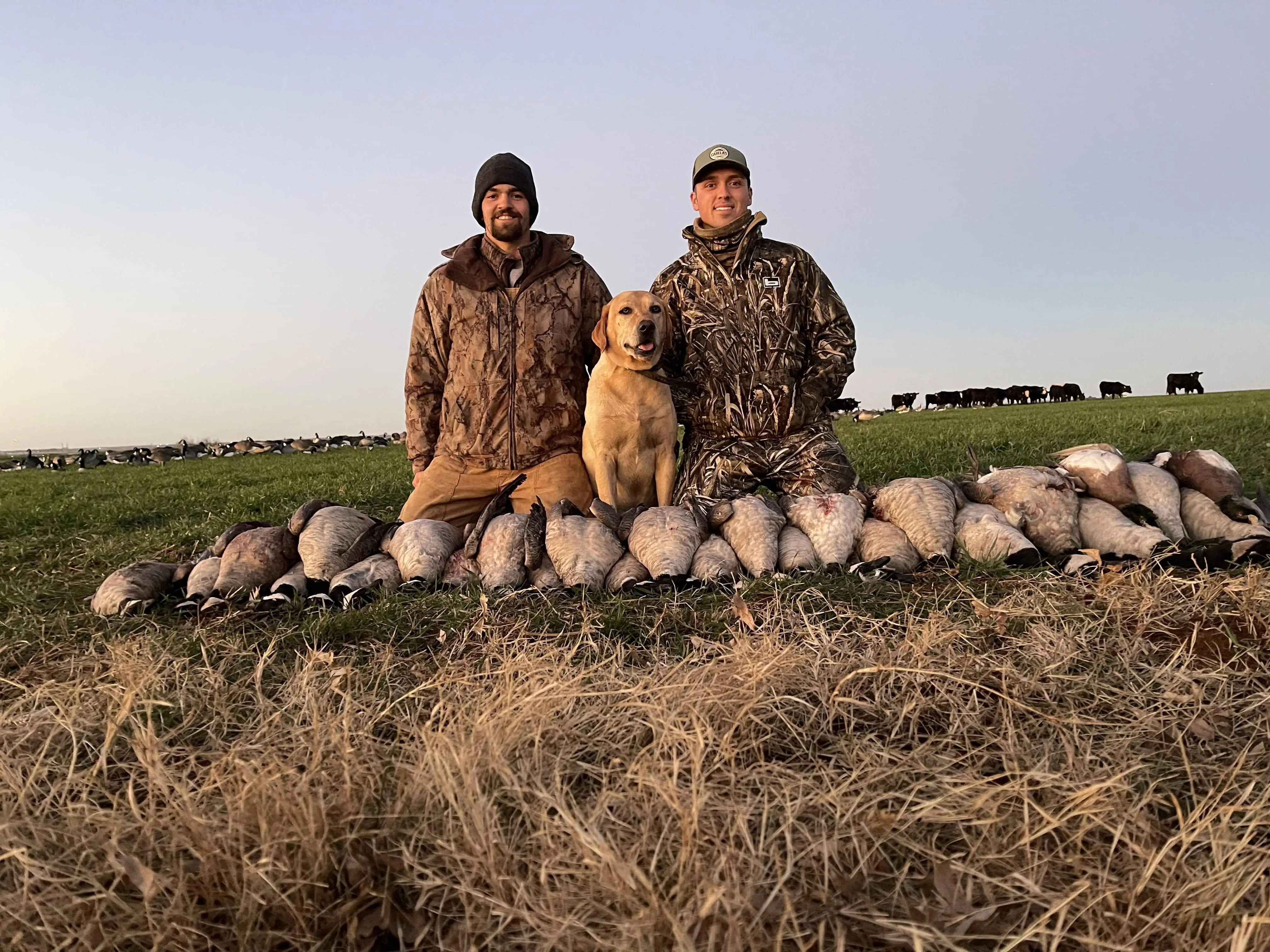 Oklahoma Guided Goose Hunting
Find and book quality Goose hunting adventures in Oklahoma on Mallard Bay
Your guide to Goose hunting in Oklahoma
Mallard Bay: The Fastest Way to Book Your Oklahoma Guided Goose Hunt
Northern Oklahoma is known for offering some of the best Goose Hunting along the Central Flyway. Whether you are looking to hunt Canada Geese, Snow Geese, or Greater White-Fronted Geese, Oklahoma has great opportunities for Goose Hunters across the state. With Oklahoma being located in the southern portion of the Central Flyway, geese migrating south through the state attract hunters from across the county. Oklahoma houses several thousands of acres of crop fields including peanut, corn, milo, and wheat fields. The endless acres of winter forage draws in the Geese that are traveling the Central Flyway. With such a vast region of rich Goose Hunting habitat, finding a Trusted Oklahoma Goose Hunting Outfitter can sometimes be difficult. Mallard Bay provides a valuable solution for all Goose Hunters in Oklahoma to learn more about hunting geese across this great state.
Mallard Bay has made it easier than ever for all generations of Oklahoma Duck Hunters to learn the tips and tricks of Premier Oklahoma Goose Hunting from local Oklahoma Goose Hunting Guides. These legendary Oklahoma Guided Goose Hunting Outfitters can all be viewed and booked with a few easy clicks directly through the Mallard Bay website.
Oklahoma Guided Goose Hunting Outfitters
Goose Hunting in Oklahoma provides you with endless opportunities to find success. With thousands of geese migrating through the Central Flyway, there are several species of geese available for harvest during the season. Each year the Oklahoma season kicks off with hunting Canada Geese on fields in the Panhandle. As the season goes on, hunting White-Fronted Geese and Snow Geese in fields and on water bodies in the central and southeastern areas is a common occurrence during the mid and late season. Mallard Bay allows you the opportunity to take advantage of the legendary Goose Hunting across the state of Oklahoma. Our compilation of experienced Oklahoma Goose Hunting Guides spans across the entire state. Mallard Bay provides everyone with access to book Trusted Oklahoma Goose Hunting Guides with a few simple clicks. 
Each of the Trusted Oklahoma Goose Hunting Outfitters spend every moment preparing for the season by studying the movements of geese down the Central Flyway. These Top Notch Oklahoma Goose Hunting Guides have become experts on where the birds are, what caused them to move into the area, and what their movement patterns are like. Guided Oklahoma Goose Hunts provide all hunters with opportunities for harvesting Canada Geese, Greater White-Fronted Geese, Snow Geese, and other goose species in Oklahoma. If your passion is hunting geese on the northern plains of Oklahoma, Mallard Bay will make it easier for you to find and book an Oklahoma Goose Hunting Guide by providing you with several Trusted Oklahoma Goose Hunting Outfitters across the state to choose from.
Book Your Guided Oklahoma Hunt Today!
Ready to book your next guided goose hunt in Oklahoma? No matter the species you hunt, Mallard Bay makes it easy for all Goose Hunters to book an Oklahoma Guided Goose Hunt. We offer a wide array of Trusted Oklahoma Goose Hunting Outfitters all across the state that provide one-of-a-kind guided goose hunts. If you are looking to book your Guided Goose Hunt in Oklahoma click here to see our list of Trusted Outfitters.