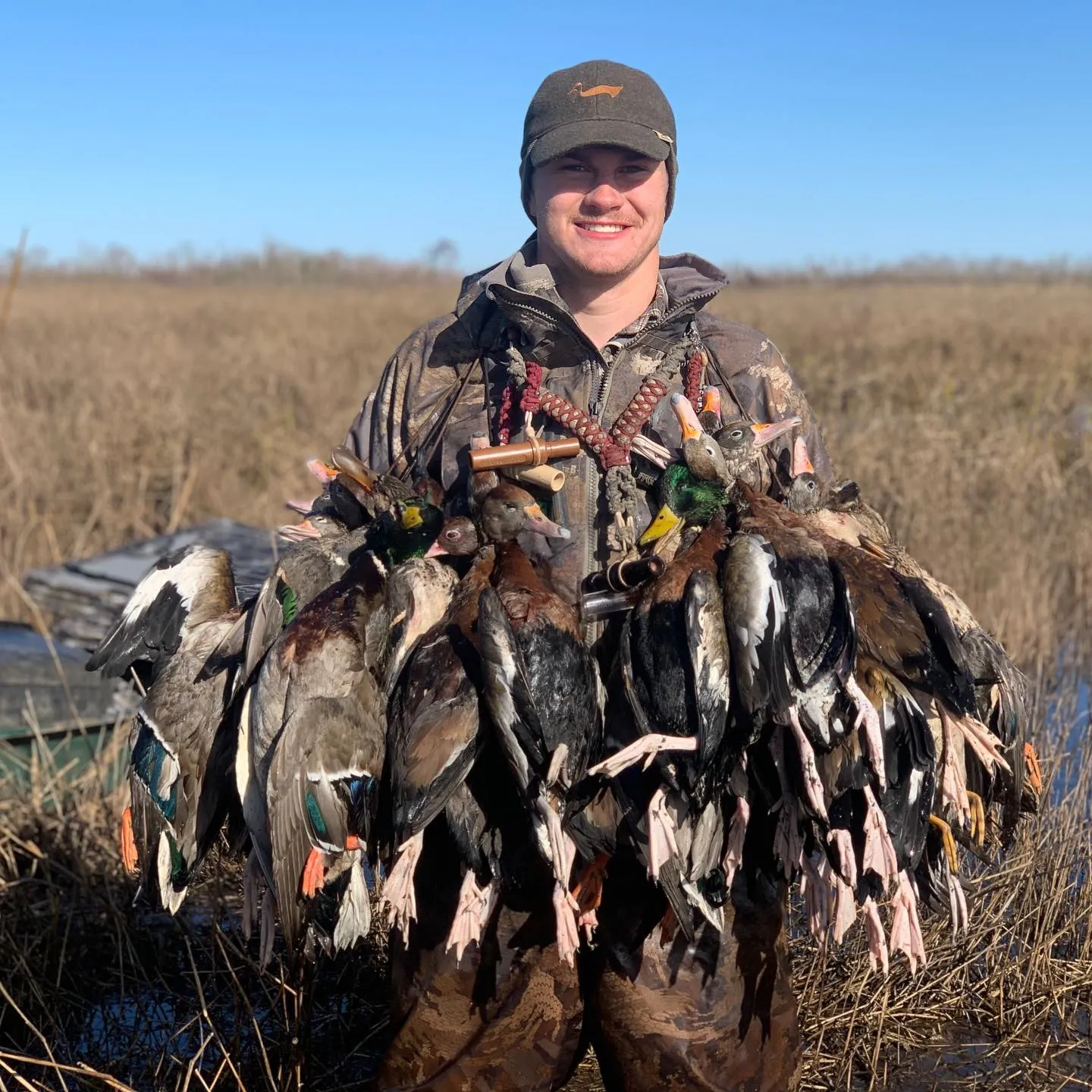 Louisiana Guided Waterfowl Hunting
Find and book quality Waterfowl hunting adventures in Louisiana on Mallard Bay
Popular amenities
Life jackets
Air conditioning
Live bait well
Rods, reels & tackle
Guided
Kid friendly
Private experience
Lodging
Toilet
Your guide to Waterfowl hunting in Louisiana
Mallard Bay: The Fastest Way to Book Your Louisiana Guided Waterfowl Hunt
Louisiana is the final destination for millions of migrating waterfowl that travel through the Mississippi Flyway. Every fall, hundreds of hard working Louisiana Waterfowl Hunters swarm into the flooded timber and marshes of Louisiana to hunt the world-famous Sportsman's Paradise. With thousands of miles of rich Wetland Waterfowl Hunting Habitat, locating the best place to hunt can become a tedious task. This is where Mallard Bay becomes a vital tool for Louisiana Hunters to learn more about places to hunt in this great state.
Mallard Bay has made it easier than ever for new generations of Louisiana Waterfowl Hunters to learn the tips and tricks of Louisiana Waterfowl Hunting from experienced Louisiana Waterfowl Guides. These exhilarating Louisiana Guided Waterfowl Hunts can all be viewed and booked with several easy steps directly through the Mallard Bay website.
Louisiana Guided Waterfowl Hunting Outfitters
Louisiana Waterfowl Hunting is home to on average 30+ different species of Ducks and Geese that travel annually along the Mississippi Flyway. In the early part of the season, waterfowl congregate on the thousands of acres of lakes and backwaters. Later in the season, waterfowl shift their patterns and hone in on flooded timber and marshes for deep cover. Mallard Bay provides the possibility for people to book one-of-a-kind Louisiana Guided Waterfowl Hunts with our network of Trusted Louisiana Waterfowl Hunting Guides. Our network of guides span across the entire State. This allows everyday people to easily book a guided waterfowl hunt with the #1 Waterfowl Outfitters in Louisiana. Each Trusted Louisiana Waterfowl Outfitter offers exclusive Guided Duck and Guided Goose Hunts only found on Mallard Bay.
The Guided Waterfowl Outfitters at Mallard Bay spend months preparing, watching and studying the movement of waterfowl across the Mississippi flyway. These Top Tier Guides become local experts on where the birds are in Louisiana, what pushed them into the area and what their patterns are looking like. Guided Louisiana Waterfowl Hunts create a chance for novice and experienced hunters alike to shoot mallards, wood ducks, teal, specklebelly geese and other migratory birds across the deltas of Louisiana. Based on the region you hunt, Guided Louisiana Mallard Hunts might be your thing. You might love the exhilarating sounds of thousands of honking Snow Geese flying above you as you let the pellets fly on a Guided Conservation Snow Goose Hunt. Whatever species fuels your obsession with Louisiana Waterfowl Hunting, Mallard Bay makes it that much easier to find and book an Louisiana Waterfowl Guide, with hundreds of Trusted Waterfowl Hunting Outfitters available.
Book Your Louisiana Guided Waterfowl Hunt Today!
Ready to book your next guided waterfowl hunt in Louisiana? No matter the species you hunt, Mallard Bay makes it easy for all Waterfowl Hunters to book a Guided Waterfowl Hunt. We offer a wide array of Trusted Louisiana Duck Outfitters and Trusted Louisiana Goose Outfitters all across the State that provide one-of-a-kind guided waterfowl hunts. If you are looking to book your Guided Waterfowl Hunt in Louisiana click here to see our list of Trusted Outfitters.