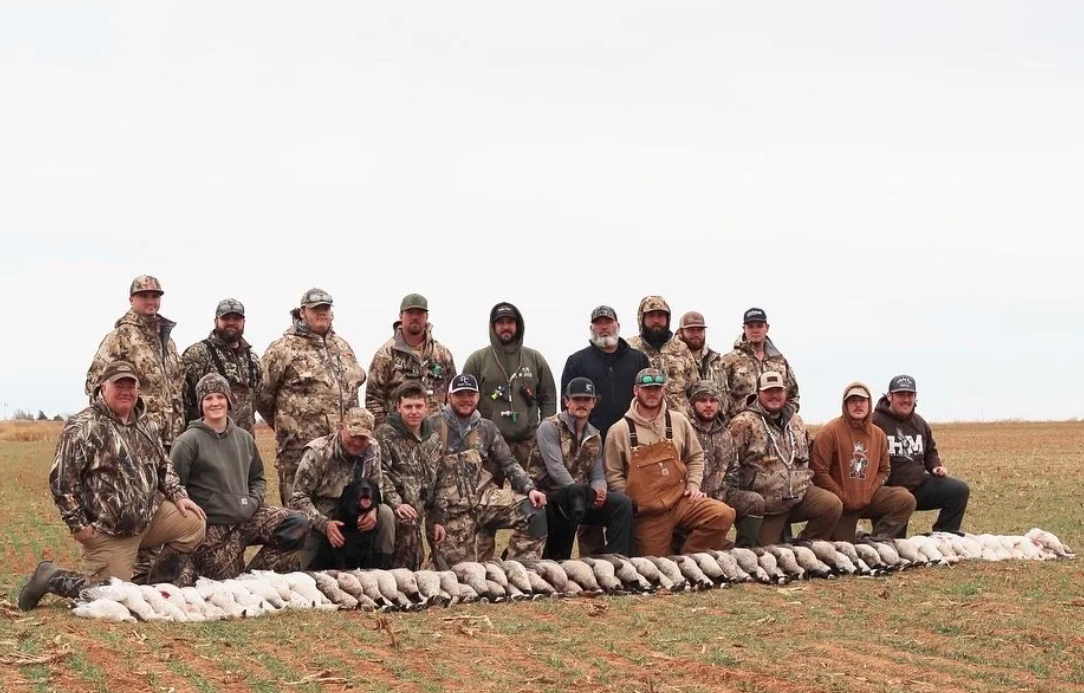 Oklahoma Guided Duck Hunting
Find and book quality Ducks hunting adventures in Oklahoma on Mallard Bay
Popular amenities
Guided
Lodging
Bird dogs
Private experience
Kid friendly
Snacks
Animal cleaning
Air conditioning
Keep the meat
Meals
Your guide to Ducks hunting in Oklahoma
Mallard Bay: The Fastest Way to Book Your Oklahoma Guided Duck Hunt
Whether you are an experienced hunter or just starting out, Oklahoma offers several diverse opportunities for successful Duck Hunting across the state. Located in the Southern portion of the Central Flyway, Oklahoma is an important part of the wintering range for hundreds of thousands of ducks across several different species. The Northwest Salt Plains in Oklahoma offer a great location for Duck Hunters to hunt fields. In the Northwest portion of the state, in the Panhandle, there are many areas that draw in multiple duck species with the nutrient rich crop fields. The central and northeast portion of the state is rich with lakes and river valleys, such as the Verdigris River Valley, that provide optimal habitat for several duck species. In the Southern part of Oklahoma, there are several large reservoirs, and sloughs that are surrounded by crop fields that make for ideal Duck Hunting locations. From hunting teal and puddle ducks in the early season, to hunting mallards along rivers in freezing winter temperatures, and even pursuing divers on larger reservoirs, Oklahoma has an opportunity for every Duck Hunter. 
Mallard Bay makes it easier on all Oklahoma Duck Hunters to learn the trade of Superior Oklahoma Duck Hunting from experienced Oklahoma Duck Hunting Guides. These unmatched and action-packed Oklahoma Guided Duck Hunts can all be viewed and booked with several easy clicks on the Mallard Bay website.
Oklahoma Guided Duck Hunting Outfitters
Oklahoma Duck Hunting offers several diverse hunting opportunities that you can't find anywhere else. With over 23 duck species that travel the Central Flyway each year, there are countless opportunities for Duck Hunters in Oklahoma. As the temperatures cool down further north, hundreds of thousands of ducks migrate south to Oklahoma from Canada, Nebraska, and Kansas. Every year duck species migrate to Oklahoma to enjoy the nutrient rich peanut, corn, milo, and wheat fields that are found throughout Oklahoma. Mallard Bay provides you with the opportunity to take advantage of everything Oklahoma has to offer for Guided Duck Hunting. Our network of experienced Duck Hunting Guides are located across the entire state to provide you with endless Oklahoma Duck Hunting opportunities.
Each Trusted Oklahoma Duck Hunting Outfitter offers Guided Duck hunts only found on Mallard Bay. These Guided Duck Hunting Outfitters on Mallard Bay spend the entire year preparing for the Duck Hunting Season by studying the movement of ducks down the Central Flyway. All of the Duck Hunting Guides are experienced local experts when it comes to Oklahoma Duck Hunting. Guided Oklahoma Duck Hunts offer a chance for experienced and novice hunters to harvest Mallards, Pintails, Teal, Widgeon, Gadwall, Wood Ducks, and several other migratory duck species across all of Oklahoma. Whatever fuels your passion for Oklahoma Duck Hunting, Mallard Bay makes it much easier to find and book an Oklahoma Duck Hunting Guide, with several available Trusted Oklahoma Duck Hunting Outfitters to choose from.
Book Your Guided Oklahoma Hunt Today!
Ready to book your next guided duck hunt in Oklahoma? No matter the species you hunt, Mallard Bay makes it easy for all Duck Hunters to book an Oklahoma Guided Duck Hunt. We offer a wide array of Trusted Oklahoma Duck Hunting Outfitters all across the State that provide one-of-a-kind guided duck hunts. If you are looking to book your Guided Duck Hunt in Oklahoma click here to see our list of Trusted Outfitters.